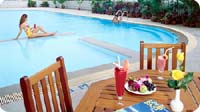 If you are looking for an Orlando Pool Service Company to provide you with weekly service or maintenance, then you should give us a call. We specialize in swimming pool and jacuzzi services. We will come to your home and take care of your pool or jacuzzi for you.
Swimming Pool Services:
Our pool service includes vacuum, brush and provide the proper chemical balance so your pool looks its best all year round. We also provide pool repair services if needed. Our prices are always fair and competitive, to earn your business.

Benefits Of  Our Pool Services:
Convenience - We do the work for you.
Quality - We use the best products.
Value - Protect your pool investment.
No Risk - Your satisfaction is guaranteed.

Business Hours:
Monday – Saturday, 9 AM – 6 PM
Please Call 407.608.0408 to Schedule a No Obligation Price Quote – Ask For Afonso